CoachAccountable allows coaches to create
Action items that are designated for coach to do
, rather than client. In other words, Coach Actions enter the mix along side the more conventional Client Actions.
Using Coach Actions
First, enable Coach Actions.
To enable Coach Actions, simply visit Settings >> System >> Coach Actions. There you will be greeted by a simple page.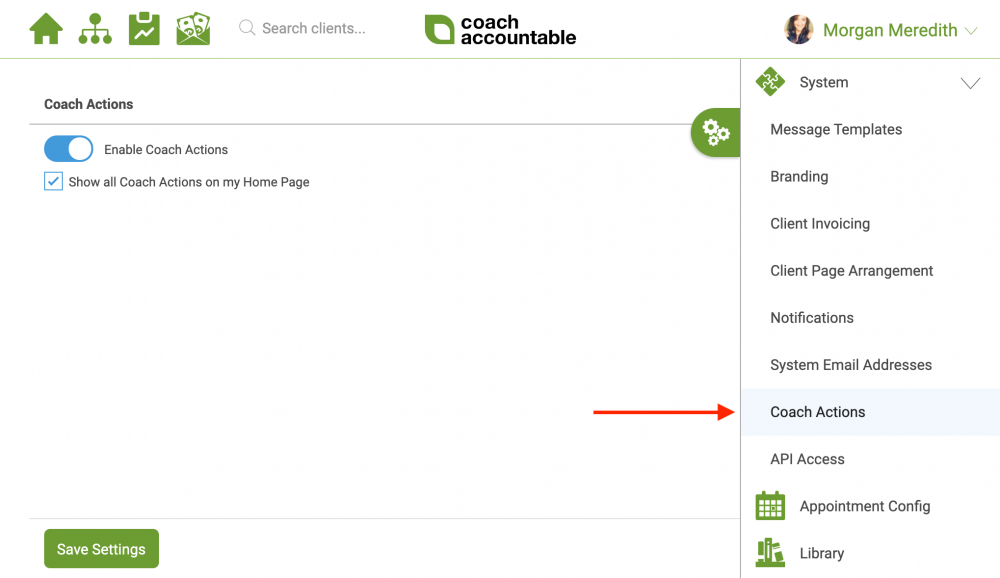 Simply flip the switch, and decide for yourself whether or not you'd like a Coach Actions section added to your home page. Click the "Save Settings" button and you're set.
Once enabled, you'll find a little bit of extra UI when creating an Action from a Client Page. To the right there's a little note that says "This is for so-and-so to do", along with a "change" link. Clicking the change link toggles the Action as being for you or your client, like so: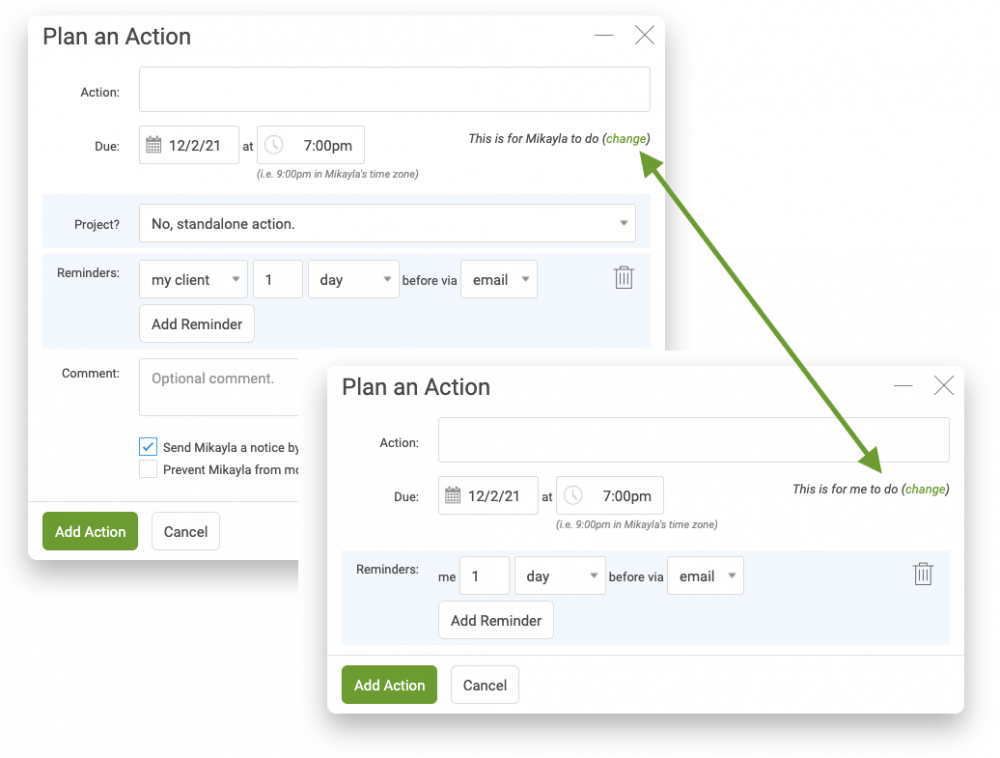 Like more conventional Actions for your clients, Coach Actions are meant to help you keep on top of those things you need to get done for your clients, so the usual "this is now late" alerts and ability to set reminders apply. Naturally, reminders you set for these will only be for you as coach, never your client.
When you have one or more Actions that are designated for you to do, the client's Current Actions area contains those in a separate section plus appropriate labeling to make it clear who's responsible for what: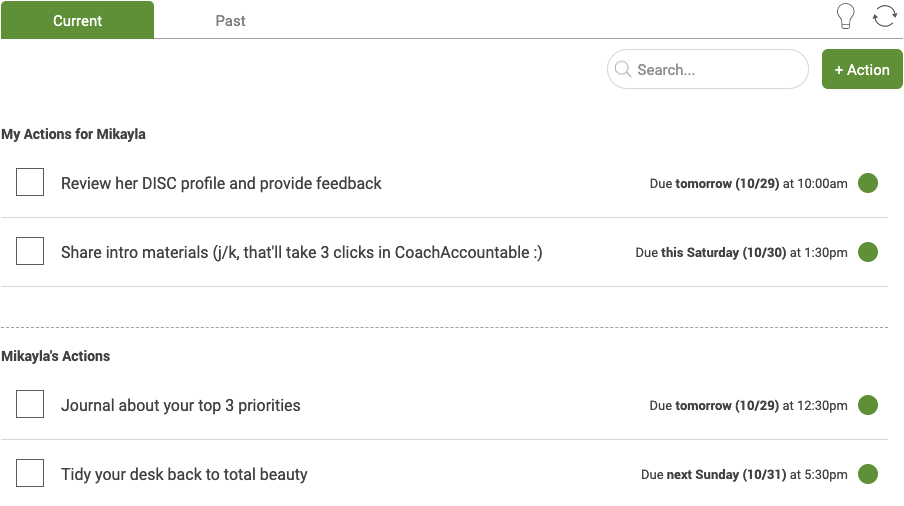 As you might expect, these Coach Actions are completely invisible to your clients, and similarly hide themselves automatically when you switch in to Client Present Mode:

Provided you've opted to have them show there, you can see (and create) Coach Actions from your home page for all of your clients: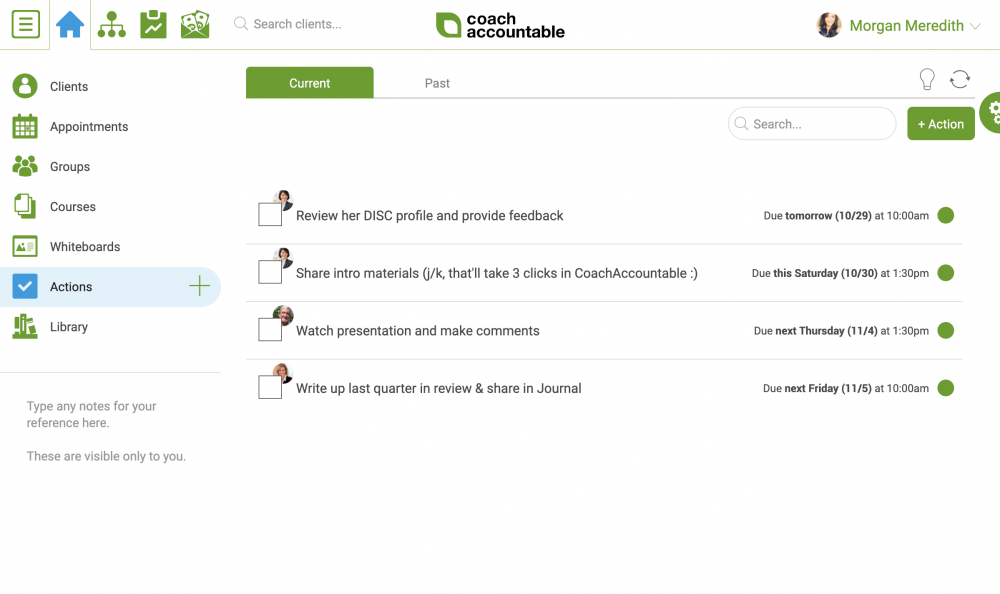 Click on the avatar of a client to jump to that person's client page.
Other Considerations
By design, completed or canceled Coach Actions do NOT live in the Past tab for clients: they are are meant to be more transient, so there's no need clutter the record of your client's accomplishment. But rest assured that you can still see all of your past Coach Actions on your home page >> Actions >> Past tab.
All Coach Actions are meant to be associated with a specific client. These are not meant as a generic to-do list, but instead as a tool crafted specifically to empower you to make good on promises that pertain to your clients. If you want to make Coach Actions that don't actually pertain to any of your clients, the simplest way is to simply associate them with your freebie client.
In addition to standard reminders you might set for individual Coach Action items, CoachAccountable will lovingly include a reminder about any unfinished Actions you might have for a client in the lead up to an Appointment you have with them, done as a simple addendum to any notification emails you have set, like so: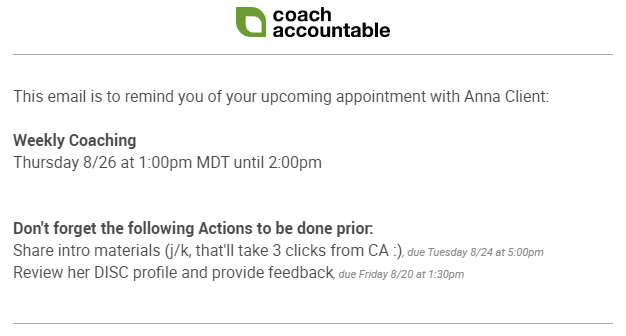 And that's it! Coach Actions are really all about
you showing up powerfully for your clients
: armed with a tool that takes the guesswork out of what to do, for whom, and by when, AND taking forgetting off the table, you're able to make promises to your clients with confidence, and follow through like a seasoned professional every time.