CoachAccountable Groups are designed to promote communication among group members, joint accountability, and a real experience of shared accomplishment and community support. You can also set up groups for only your own use.
Enabling Groups
First, double-check that Groups is on for your account. Click on your headshot in the upper right >> My Account >> Add Ons, and enable Groups if necessary.
To access CoachAccountable Groups, click the
Groups
tab
while on your Home screen. Clicking on a Group brings you to that Group's page. Click
+Group
to
create a new Group.
Communication and Collaboration
Easy sharing and messaging among group members is baked right in.
Messages
can be posted to the group, items from individual coaching experiences can be shared with the group, members can comment on items (easily added either when logged in or by replying to group email notifications), and coaches can optionally allow group members to send private messages to one another through the system.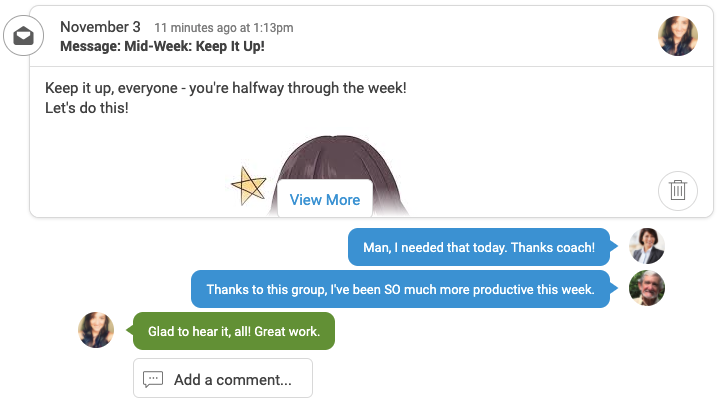 Fine-Grain Control for the Coach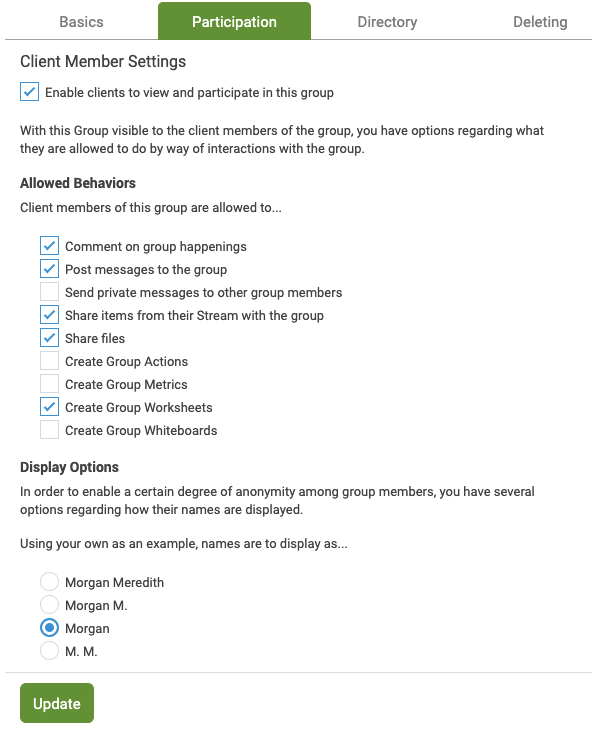 Anonymity
If needed, coaches can protect the relative anonymity of Group members among one another. Names can be masked and all communications among Group members are handled by the system, meaning personal contact details are kept hidden by default.
Groups for Passive Oversight
Your coaching might not be suitable to have your clients talking and interacting, but perhaps they're all up to the same thing and you'd like a collective overview of how the team is doing. With the option to make Groups that are visible only to you, you can do just that.
Closed Groups enable you to create
Group Metrics
,
Group Actions
and more just as in regular Groups, leaving individuals with their individual assignments but only you with a view of the group's aggregate performance.