Use this report to see at a glance, who's in an
Engagement
and how far along all your Engagements are across all clients.
This report will only appear as an option if you have at least one active Engagement.

Just one option here; in fact, you'll only have the dropdown if you're a Team Edition account. That option allows you to run the report either for your entire account or just for the clients of one specific coach. Otherwise, you'll just see Load.
Click Load and you've got the report.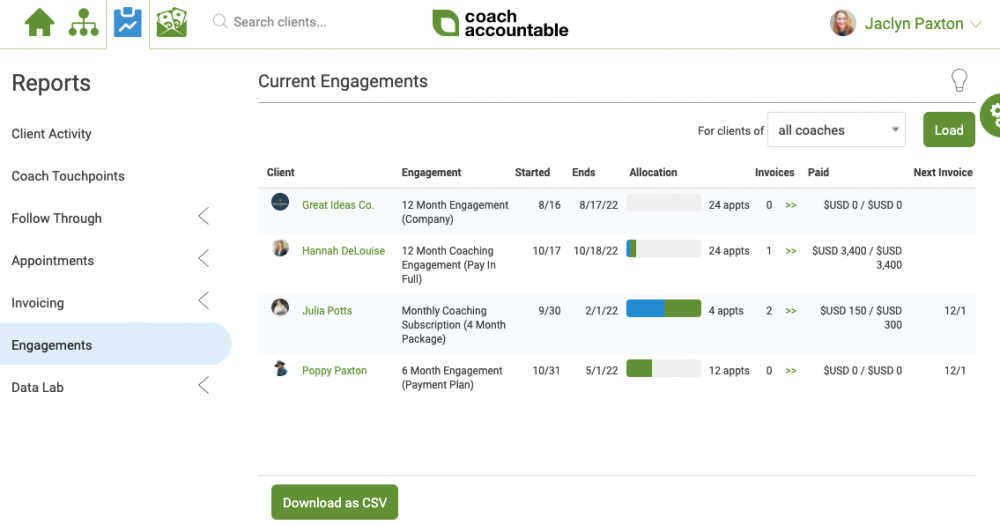 You'll see the client's name next to an allocation progress bar for the Engagement. This progress bar, much like the at-a-glance one on your client listing, will show blue for verified and green for requested/accepted. Hover over the progress bar for specifics. You'll see how many appointments have been verified (blue) and accepted (green).
Also, note the green arrows next to the invoice sequence number - click those, and you'll go right to that client's invoices.
The "Next Invoice" field helps you get a basic idea of when your bank account will be receiving money, to help plan accordingly.
As always, click on the name of any column to sort by that field - and click twice to sort backward.